Would you like to develop an easy and effective style of leadership in your organization?
Horses can tell you how to do it!
Welcome to Pegazus Coaching!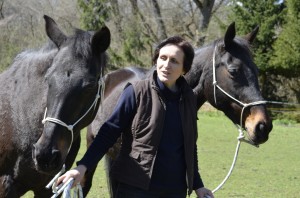 I'm Judit Kovács, ing. agr., specialized in horse assisted coaching. Together with my horses, I support leaders and entrepreneurs to deepen their self-knowledge and to 'fine-tune' their style of leadership. Horses expect a clear leading role from humans and their response to our leadership style can provide us with immediate inspiration and clarity.
What kind of situations can be supported by horse assisted coaching?
have you ever had the feeling of being alone with your problems in your professional life?
maybe you 

want more support to develop those all important soft-skills?

do you have to build, develop and motivate your own team?

do you want to establish a creative and more effective working environment and easy-going communication style? 
 If so, you'll need an approach and learning methodology which
can help you lead your team using a coaching style;
can give you prompt and immediately-testable results,
you will not forget. I guarantee that your experiences in this team coaching will have a lasting legacy and impact on your leadership style;
can support you to develop your team away from the confines of an office environment, in a stressless and natural environment.
Horse assisted coaching will equip you with an effective methodology to support and 'fine-tune' your style of leadership. Riding skills are not needed, since we are working with the horses mainly from the ground.
If you would like to receive more information on group seminars or horse assisted coaching, please e-mail info@pegazuscoaching.hu and I will be delighted to send you all details.
Let's combine Pleasant with Useful and
develop your company in a relaxed atmosphere!